William A. Waswick grew up in North Dakota and received his medical degree from the University of North Dakota School of Medicine. He completed a surgical residency at the University of Kansas School of Medicine – Wichita. Dr. Waswick is board certified by the American Board of Surgery and is a member of the American Burn Association.
Dr. Waswick is a clinical assistant professor of surgery at the University of Kansas School of Medicine and served as Past President of the medical staff at Wesley Medical Center. He currently serves as an executive member of the trauma committee.
William Waswick specializes in burn care, Laparoscopic and Robotic surgery, trauma, and acute care. He also donates his surgical services to Project Access, which serves uninsured, low-income residents of Sedgwick County. Dr. Waswick is the director of a medical mission trip that travels to the Dominican Republic twice a year.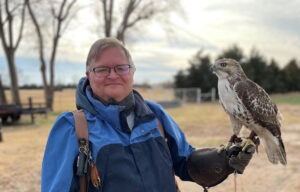 Dr. Waswick is a man of many talents! In addition to his general surgery practice, donating surgical services, and mission trips – he also practices falconry, a sporting hobby requiring extensive training and certification to hunt with birds of prey. He has become a master falconer over his 20 years of training and hunting with hawks and similar birds. Read more in this article featured in the Medical Society of Sedgwick County's October 2022 newsletter!